You pay nothing if this device fails to get rid of that pesky cat. Give us a try! Over the past 3 years we have helped thousands of people solve their cat nuisance problem. Our knowledgeable staff can help you be successful too. Offering a great product and 110% customer service we hope to earn your business and recommendations. Take advantage of our FREE 60 day trial - ( Please read policy details) .
We know, all companies make various claims about their products. Who do you believe? We say, believe your own experience. The point is, if this device solves your problem we are both happy, but if it fails you return the product and pay nothing. We don't just want to sell you a product one time. We want you to be pleased with our products and service so you will recommend us to your friends and family.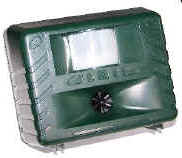 This unit has variable frequency settings. For cats and dogs use the low pitch frequencies. Adjust it so it is silent, but as close to audible range as possible. Larger animals respond best to low pitch frequencies and small animals such as mice and rats respond to higher pitch frequencies.
This unit has two response settings one set to be activated by the infrared sensor and the other setting is continuous. For cats and dogs set it to go off only if they come within itís electronic eye zone. The sensor's zone is about 35 ft out in front of the device and about 70 ft wide in a 80 degree fans shape. For rodents set it to the continuous output setting. Effective coverage for the sound broadcast is about 4000 sq. ft.
It is Electronic, motion-sensing, ultrasonic/sonic property guard. Powered 2 ways: battery powered (4 C-batteries not included) or use the AC adapter (included). Water-proof design; easily mounts to a fence, pole, or shed. Adjustable output settings.
Helps discourage & scare CATS & DOGS. Sounds take pests by surprise because the unit remains silent until the motion sensor detects an approach. UL listed. The unit Weighs about 1.5 pounds. Color: White. 2-year mfg. warranty.
*********************************************************
Get rid of that cat ! I know you want to string the neighborís cat up to a very tall tree, but you may get into more trouble than it is worth. Lawsuits and fines can be a real pain, but you can still dream. I hope to help you fulfill the dream of having a cat free environment.
Place this device between your cat and the neighbor's cat or dog to prevent them from fighting. If the nuisance walks into the vision field of this device it will go off and send him running. It does not harm the animal, but it sure will scare it.
Use our automatic device to protect you car. Finding cat tracks all over my clean car really pops my cork. Just one scratch can depreciate the value of a car by several hundred dollars. Why do they always choose YOUR car and not the one parked in the driveway where they live????
Get rid of that screaming cat without the neighbors even knowing what you are doing. These units are silent to humans. That darn cat comes over in the middle of the night and decides to sing a very loud song to you. Really, I would describe it more like a scream used in one of those Friday the thirteenth movies, But hey! The owner most likely thinks their cat is the sweetest sounding cat around. Cat owners love their pet and are most likely more protective of the cat than they are of their children. That is why it usually does not do any good to complain to the owner.
Get rid of those cat droppings in the flower beds by keeping the cat at bay. This might be your problem. The cat comes over to your yard every day and takes a great big smelly dump in you flowerbed, after first slinging dirt all over the place. The straw that broke the camelís back is when you were mulching around the roses, not realizing that the cat had beaten you to it. You end up with stinky gooey stuff on your hand or knee. Now, if that isnít enough to raise you blood pressure nothing will. These units can be placed to form an invisible fence to keep cats and other animals away. Click here for disease information.
Prevent cat dropping from getting in the kid's sand box. This is a very common problem and it places your whole family at risk. Even if you decide to not have a sand box to avoid this problem there are many other places in the yard and personal habits that can cause the infection. Your child should be able to play in your own yard without worrying about cat droppings and the problems they can cause. Common diseases that pets can infect the family with. Click here for disease information.
Get rid of that cat urine smell. Wow, that stuff is bad! Let's look at this scenario. The cat knows you donít like him and he has decided to give you his best shot. So, every day he comes over and squirts some of that double strength cat urine as close to the doors or windows as possible. The only thing that could possibly be a match for this stuff is a bucket full of toxic waste from the nearest nuclear dump site. We do sell a VERY GOOD bacteria/enzyme commercial grade cleaning solution "Pet Odor Eliminator", but that is not really the focus of this presentation.
Cats under the house, porch or out building can be a real irritation and the next thing you know that are dozens more. These devices also work well for skunks, possums and other small animals too.
Solutions ! I know, your first inclination is to buy a flamethrower and go after that darn cat, but wait take a deep breath. Letís consider a safer course of action.
1. You could inflict some major pain on that pesky little cat to teach him a lesson, but I don't recommend this because you may get punched out by your neighbor or in some cases locked up by the police. The animal rights people may even haul you into court with a big lawsuit.
2. You could get a dog that does not like cats and keep him in your back yard, but many people just don't want to the responsibility of a pet. Plus, then youíd have to pick up after him too!
3. You can buy chemicals and sprinkle or spray around the area you want the cats to avoid. The chemicals work, but you have to keep applying them and they can be messy if you use them indoors. Time and weather will deteriorate their effectiveness. The battery life for our devices can easily last several months.
4. Order our Ultrasonic dog and cat repelling devices. We have one that is automatic and will blast the cat with an ear full of sound if it gets within 15-20 ft of the device. It is fully automatic and very reliable. The automatic Cat and Dog repelling device is weatherproof and can be used inside or out. Ok, I admit that I have a vested interest in recommending these devices to you, but they really do work!


Here are the benefits we hope to provide to you.

1. We will send the devices to you and let you use them free for 60 days. If it solves your problem we both will be happy. (see free trial policy)

2. You will not have to use chemicals around your home or family. No offensive odor or dangerous chemicals for your child or pet to find.

3. Your lawn will look and smell great. No more cats to irritate you or damage your property.
4. Your sleep will not be disturbed by that bloodcurdling scream in the middle of the night. The device will silently get rid of the cat without you being disturbed or your neighbor knowing what's going on. The cat just stays away.

5. We promise that our service will be prompt and courteous. Our goal is 110% customer service satisfaction.
.