Pet Odor Eliminator :
This is a commercial grade product

Our product is highly concentrated (10-1) for maximum savings and results. One of our gallons is equal to 10 gallons of our competitors solutions. This Bacteria/Enzyme solution starts working immediately as the enzyme attacks the odor causing material. The bacteria begins to produce fresh enzymes to continue destroying the cause of the odor. Urine, feces saliva vomit and other odor causing organic materials digested and eliminated.
Mix it in warm water and apply to violated area. The enzymes produced by these specially cultured bacteria will destroy the odor causing elements.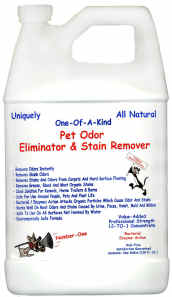 Industrial Strength "10 to 1" Concentrate!

An All Natural Secret, Another Nature's Miracle.

Works on even OLD odors and stains -- including SKUNK odors. Also works on vomit, blood, mold, mildew, grass, and grease
Safe to use anywhere:
Safe to use around people, plants, and animals
Safe for hospitals, nursing homes, schools, and home
Ideal for kennels and horse barns -- the veterinarians' choice!
Cleans carpets, upholstery and hard surface areas
Effective air freshener
Environmentally safe: Your all natural solution.
Use it on laundry -- it won't harm your washing machine
Works well in a hot water extractor or a carpet shampooer with a 4 to 1 dilution
Convenient and economical:
10 to 1 concentrate - saves you money
Order conveniently from your home
Exclusive offer -- not stocked at Petsmart or Petco