You pay nothing if these devices fail to get rid of your yard pest. Give us a try! Over the past 3 years we have helped thousands of people solve their yard nuisance problem. Our knowledgeable staff can help you be successful too. Offering a great product and 110% customer service we hope to earn your business and recommendations. Keep in mind we offer a Free trial. Review the complete policy by clicking the Free trial Policy link in the left column.
We know, all companies make various claims about their products. Who do you believe? We say, believe your own experience. The point is, if this device solves your problem we are both happy, but if it fails you return the product and pay nothing. We don't just want to sell you a product one time. We want you to be pleased with our products and service so you will recommend us to your friends and family.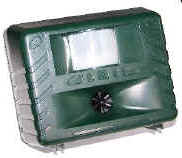 Keep the cats, dogs, raccoons, coyotes, skunks, possums and other wildlife at bay. May be use indoors or out.
Get a pest deterrent and burglar alarm in one! The SB925 Property Guard electronic yard protector helps keep outdoor spaces free from unwanted pests or trespassers by creating an undetectable, radar zone covering an approximately 15 ft. in front and about 40 degrees to each side of center.

When the built-in motion sensor detects an intrusion, it responds by emitting a high-frequency 120dB sound blast . A selector switch lets you choose how it responds. To fend off dogs, cats and other wild animals, use the ultrasonic mode, which emits an alarm that's bothersome to animals, but inaudible to humans. To scare away human trespassers or would-be thieves, use the standard mode that everyone can hear.

The SB925 Property Guard features weatherproof design for indoor or outdoor use, even in wet weather. Runs on 4 "C" batteries for up to 2,000 10-second sound releases (batteries sold separately). It easily mounts to walls, fences, trees or posts.

Repels dogs, cats, deer, wild animals raccoons and possums in yards and gardens
Motion detection conserves power - activates within a 15-20 foot area
Has a very bright strobe light
Dial selector alarm ranges from human audible range upto 40kHz frequency which is silent to humans
Infra red Sensory System; perfect for gardens, yards, homes, and other animal problem areas
Can be mounted on Walls, trees, or post ; LED function/night light; weather resistance.