Shipping cost: the shopping cart will calculate the shipping before you have to enter any personal data. Selected your product , zone and click the recalculate button.
You may be wondering how many to purchase. Each unit is rated to cover 9000 sq. ft. This is a circle with a radius of about 54 ft., but over the years we have learned that if the customer will get more that the calculations show they will be more successful. The old saying "If a little bit will do a little bit of good , then a whole lot will do a whole lot of good" is true in this case. That is the reason we offer a volume discount.
Mole control without poison bait, mole traps or pesticides.
Ultrasonic mole control is fast, safe and effective.
You pay nothing if these devices fail to get rid of your moles. Give us a try!
We know, all companies make various claims about their products. Who do you believe? We say, believe your own experience. The point is, if this device solves your problem we are both happy, but if it fails you return the product and pay nothing. We don't just want to sell you a product one time. We want you to be pleased with our products and service so you will recommend us to your friends and family.
How do you know if you are taking pesticides into your body? If you touch the chemical almost all pesticides will absorb very rapidly through the skin into the blood stream. If you can smell the pesticide, rest assured that a some is getting into your blood stream through you upper respiratory mucosal membrane. We are constantly told how safe these chemicals are, but in the second breath told not to breath them, not to touch them, don't ingest them and lock them up safely away from our pets and children. Now, how safe do you really believe them to be?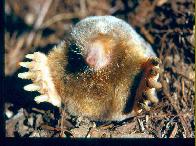 Trapping moles is the most effective method of getting rid of moles, but it requires a lot of hard work, patience and luck. Trapping moles is more of an art than a science. Believe me it is no cake walk trapping those little critters.

Feeding poison bait to the mole can be used, but in many states it is illegal and dangerous. If you use pesticides to rid your yard of the worms and insect that the moles eat they will leave. It would take a lot of chemicals and you would need to treat the area several time per season. There is a certain amount of risk to your health and the environment.

Low frequency sonic mole repelling devises can be used to drive the moles out of your yard. Ok, I admit that I have a vested interest in recommending this device to you. We sell them with the intention of making a profit. They really do work!

Here are the benefits we hope to provide to you.

1. Keep in mind we offer a Free trial. Review the complete policy by clicking the Free trial Policy link in the left column. If it solves your problem we both will be happy.

2. You will not have to use poison bait or pesticides around you home or family.

3. Your lawn will look great and you will not have that pesky damage everywhere.

4. We promise that our service will be prompt and courteous. Our goal is 110% customer service satisfaction.

A little history about the Mole.
Moles are pests that inhabit most areas of the world with the few exceptions of Australia, Greenland, Antarctica, and parts of South America. They are burrowing insectivores about the size of chipmunks. There are about 30 species of moles ranging from 4" (10 cm) to 9" (23 cm) in length. All moles share a few common habits - they eat worms, insects and their larvae, and some roots just under the surface of the
ground. They become a garden problem because of their voracious appetite for earthworms and earthworms are essential for a healthy garden. Moles can be a garden resource as well because they also eat grubs and other soil insect pests. A mole consumes about half its weight in earthworms and insects each day. They are powerful tunnelers. Moles build tunnels to find their food and they maintain these tunnels while patrolling them in their search for it. With the use of their powerful forefeet, each armed with five strong claws used to shear the soil, moles can literally swim through the loose soil found in flower beds and vegetable gardens while searching for prey. A single mole is capable of digging over sixty feet of tunnel in one day and this could result in as many as two hundred ugly mounds over the course of the Autumn and Winter months! -- All this mess from just one pest! They are solitary most of the year but travel in mating pairs during the breeding season. They usually have a litter of 3 during spring and being mammals, the mothers nurse their young. A mole will patrol its territory, or "encampment", and mark the area where it is active by laying a trail of liquid scent in order to discourage trespassers. However, if a tunnel is abandoned, another mole will be happy to take over the territory! All this would be fine except moles get rid of the dirt by pushing it up in ugly mounds onto the surface of your lawns and gardens to keep their tunnels clean! The clue to their presence is the large, volcano-like molehills that they push up from their tunnel runs. When viewed from above, molehills are circular with the tunnel plug in the center. Gopher mounds, on the other hand, are fan shaped with the tunnel plug near an outside edge. There is an abundance of information available regarding moles. However, you and I can no doubt agree that, whatever else we may know about moles and their habits/needs, we are NOT happy with the mess they make of our land! -- So why live with it when it is a relatively simple task to get rid of moles?